Undeniably, everyone breathing on this earth has a deep thirst for taking out some peaceful and tranquil time, away from all the monotony and usual hustle-bustle of life. For quenching this thirst, a trip to pristine place like Mecleodganj is worth planning. Enfolded by the colossal Dhauladhar ranges, Mcleodganj is an eternal place where one can accomplish cosmic ecstasy. This divine acreage is reputed for its Buddhist monasteries, Tibetan establishments, glamorous backdrops, silvery waterfalls, and remarkable scenic views. Though there is a plethora of must-visit and exquisite attractions in Mecleodganj the beauty of Triund Hill, Bhagsu Falls, Dal Lake, Tibet Museum, Nechung Monastery, however, no place or attraction can beat or surpass the magnificence and grandeur of Triund Hill Mecleodganj.

The beauty of Triund Hill Mcleodganj, Dharamshala
Often referred to as "the jewel of Dharamshala", this blissful retreat is distant from the madde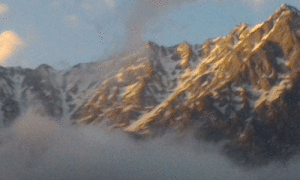 ning troop of people of Mcleodganj, gifting you an impeccable milieu to relax your soul and unwind your mind. Triund Hill is situated in the Dauladhar Range of Himalayas in Kangra District of Himachal Pradesh at an altitude of 9,800 feet (2975 meters). This immaculate spot is a famous camp site and picnic spot.
Triund is a hill, a small piece of art that the town offers you at the cost of quite a laborious yet exhilarating expedition. It is enormously famous for trekking and entices loads of tourist every year from India and all over the globe. Tourists and trekkers have been coming to Triund Hill for being close to nature. To inhale fresh air, relish the views of mountains, deep horizon and pursue harmony are some of the chief reasons attributable for such a high eminence of Triund Hill in the eyes and senses of voyagers.
Triund has a clear-cut byway which goes through a stunning assorted forest of oak, deodar and rhododendron. Trek is equitably easy for the first five kilometers but the last one kilometer may necessitate a little drudgery. The last one kilometer is prevalently known as the "22 curves" as it has 22 tiring curves before you eventually reach Triund. Along the way, there are several small chai shops where one can get energized during the hike. The tramp is worth it as the panorama when you reach Triund is breathtaking and exciting .Triund is come-at-able for most part of the year excluding for when the byway is amputated by dense snowfall in the months of January and February.