Himachali Bandhu Sabha celebrated Annual Baba Bhandra in Mayur Vihar New Delhi on 21 Decemeber 2014.
HBS celebrates every year Vishal Baba ji ka Bhandra. Since morning all the members of HBS were busy with their respective schedules, first Baba ji ke palki, bhajans, baba ji aarti and all the member of this sabha contributed their effort to organize this programme. Lot of people and familes came their and enjoy Baba ji Bhajans, Kirtan etc.
Also some of the famous personalities attend this programme and silanas for new development of Park / temple of Baba Ji. People have enjoy lot with baba ji ke bhajans, Dance, Aarti and after that baba ji ka langer. Puri and Halwa is main prasad of the bhandra. Sabhi logo ne baba ji ka langar chakha and it was really great.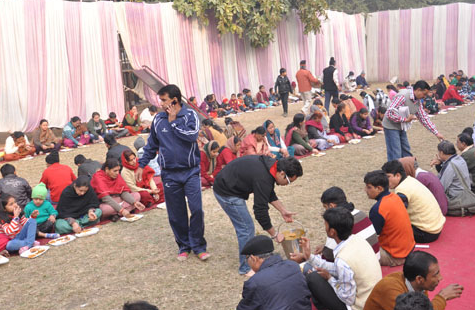 We should thanks for all the Himachali Bhandu shaba members who organized Baba Balak Nath Bhandra. ( Jai Baba Balak Nath Ji)