We are really very thankful to Divya Himachal who works for each and every moment of Himachal Pradesh and make all the Himachali people proud as Himachali not only in Himachal but also in all over the world.
Divya Himachal really takes initiative and promote our state in all over the world with all types of catagories like news, events, programme, sports, award etc. for all age of group.
Example: DANCE HIMACHAL DANCE, Miss Himachal and this time Himachal Excellence Awards 2014 for  following catagories:
  Music : Folk Singer and Instrumentalist
  Journalist
  Education Institute
  Traditional Artist
  Coop Society
  Reformer
  NGO
  Art Gallery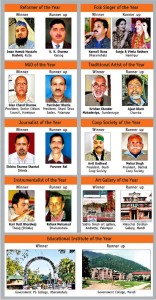 Resources: http://www.divyahimachal.com/himachal-news-2/himachali-of-the-year/
Once again Himachal Wonders would like to thanks of Divya Himachal for their strong efforts.