Really Himachal is multi talented people state and you can see the example of Shakti Singh is a former bowling all-rounder from India, who played for Delhi and Himachal Pradesh (HP) in domestic cricket. He played 58 first-class matches, taking 200 wickets and scoring 1416 runs. Limca featuring him in their annual Book of Records.
After retired he served as as domestic match referee 2007 to 2011 and playback singer.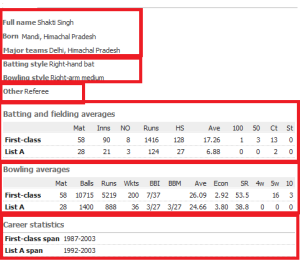 His singing debut in 2006 and sung for some of the great bollywood starts like Govinda, Fardeen khan and sung for many bollybood movies like Mera Dil Leke Dekho, Atithi Tum Kab Jaoge, Patiala house and many others.
We are really proud of multi talented Sakti Singh and wish he would sing for many bollywood movies.
Hope young generation will follow our Himahali multi talented star Shakti Singh and make proud of Himachal.
Sources:
http://ibnlive.in.com/news/cricketnext/shakti-singh-the-recordholder-turned-singer/367156-78.html